A few months ago, Dave arranged for Ian France to come along and talk about cave diving, and the bold few (Mick & Dave) signed up for the limited mine diving course whilst others asked if there was a softer option, where we get to play with string but don't actually go in to dark scary places like caves and mines
Ian agreed to run a fun experience day, where we would try out some of the key skills in the safer environment of the training area at Capernwray. 5 of us from Chorley BSAC signed up (Maria, Geoff, Jan, Liam and Matt), plus 7 others from the First Class Prep group and Regional coaching team.
What an excellent day!
We started off at the side of the car park, learning how to tie off and lay lines, keep in contact with our team members (we were in teams of three) and then how to follow our lines back in zero viz (a blacked out mask).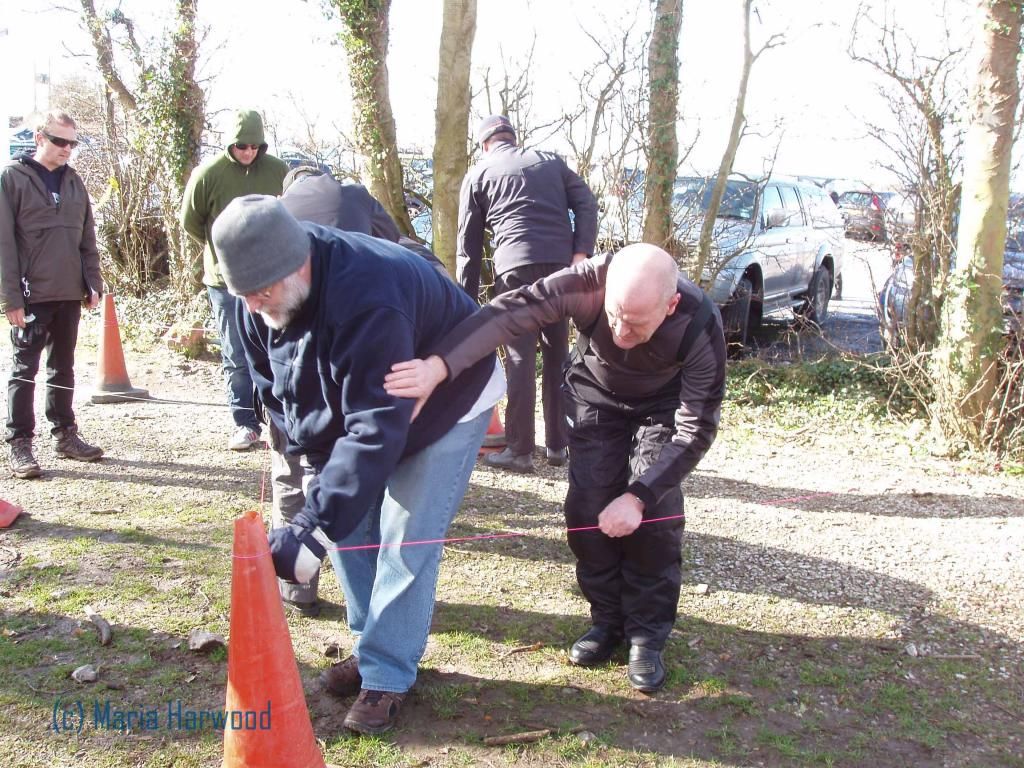 How hard could this be?
Ian explained that if we came off the line or went the wrong way he would tap us on the shoulder and we would be "dead". On similar events, less than half of his students have made it out "alive"!
Next step was to do this underwater, in the same teams of three. In we went. Laying the lines wasn't too difficult, though I couldn't remember how to do a snoopy loop, so had to find a bigger rock at one point. Then we grabbed hold of the line and placed the neoprene covers over our masks and we were off. This was when it got interesting:
- Feeling whether there were one or two thicknesses of line at a belay point was easy in the car park with bare hands, but now I was wearing 6mm gloves, and couldn't feel the individual lines, though one did feel slightly thicker than the other, or maybe I was imagining that?
- Ian and his support divers decided that our task was too easy so had created some added features on the line, with direction arrows (pointing the wrong way) and new jump lines.
- You must keep hold of the line whatever else you're doing. I could feel myself starting to float, so had to swap hands on the line before rolling round to dump air from my drysuit. One of the divers behind me "died" when she let go of the line to dump air!
- The video review showed divers fins snagging on the line (knees should be bent) and dangling hoses snagging.
- About half of us made it out "alive", and I was pleased to be one of them, though a bit embarrassed to discover that my two team members had "died" and I hadn't even noticed!
- Ian had timed us. We took 20 minutes to lay the line, and 30 to come back "blind". One of the groups had raced out, but took twice as long on the return leg. If you're using rule of thirds (a third for the journey out, third for return leg and a third for your buddy / emergencies) then you could be in big trouble
It was an excellent, fun day and we learned lots. Ian also talked us through his kit configuration and why it is set up that way for cave diving. Not all of it is applicable to us scooby-doos, but there were some interesting tips.
So, what next? Well, I am hunting around for a small piece of thin neoprene to make a mask cover and will be arranging a practice session in the Delph (with suitable sighted safety divers, of course). I also had a chat with Ian about a similar experience day playing with underwater scooters, so watch this space
A big thank you to Dangerous Dave for inviting Ian along to the club and sparking this idea.