Such is the popularity of MV Valkyrie that this dive was booked 20 months in advance. Would it be worth it???
The drive to Aberdeen was relatively painless, except for Matt who had a call from Jane to say he'd left his clothes bag at home! Despite a helpful text from Tim suggesting that he borrowed Stuart's undies (ugh – what a horrible thought) an emergency shopping trip in Aberdeen saved the day He had remembered to bring a fishing rod though, which he realised he'd left on board the Valkyrie when we came to check in for the ferry home!
The cars wouldn't be needed in Shetland, and so dive kit was loaded aboard pre-booked wheeled trolleys before boarding the waiting ferry. It's an overnight passage from Aberdeen to Lerwick departing at 5 p.m. and arriving around 7 a.m. the following morning. We'd booked cabins, so this was a relatively painless way to travel (except for those who were sharing with the snorers).
MV Valkyrie
Our home and dive boat for the week was MV Valkyrie
http://mv-valkyrie.co.uk/
, a converted trawler, run by the very capable team of skipper Hazel, cook Helen and deck-hand Rob. Valkyrie was voted Best Liveaboard in the Sports Diver magazine poll last year, and it is the quality of service from this team that stands out. Excellent shot placement and dive briefings from Hazel, who has clearly dived these sites many times and loves to share her knowledge and passion for diving; legendary meals created by Helen (I'm sure I put half a stone on last week); and attentive service on deck from Rob, including his "bucket of loveliness" (warm water to warm up hood and gloves before the dives).
Diving Highlights
Pionersk
The checkout dive was on this massive ship – a Russian "Klondyker", or factory ship, that bought fish catches from trawlers and canned or froze them on board before returning to Russia. The Pionersk ran aground in a storm, and lies in 22 metres to almost the surface, though Hazel warned us that if we surfaced by standing on the wreck we would face a long surface swim. The sheer amount of fish processing plant on board is mind-boggling, making it difficult to figure out what part of the wreck you're looking at.
HMS E49
A WW1 submarine, lying off Unst, the most northerly settled island in the British Isles (Unst lies about half way between Glasgow and the Arctic Circle).
31 men lost their lives when the E49 hit a mine, and so this is a war grave and to be treated with respect. The wreck lies in about 30 metres of water, and is gradually being claimed by the white sand that she lies on / in. Visibility was excellent, enabling us to see the entire length of the wreck as we descended the shotline. The coning tower and periscope are still easily recognised. Unfortunately my camera decided to steam up on this dive (caused by the sun shining on it when I left it on deck between dives!) This is one of the best wreck dives I've done outside of Truk.
SS Glenisla
A steamship in the harbour entrance in 45 metres, the Glenisla sits upright. The skipper had warned us that the water would be dark, being in the harbour entrance, so I was expecting Clyde-like viz, but it was pretty clear. The Glenisla was wire swept, to ensure that she is not a hazard to shipping. However, it appears that the tugs doing the work got carried away, and peeled the deck away in the process, leaving the holds, engine and boilers open to view. The Glenisla was carrying phosphorous for her lights, which now resembles wedges of white cheese. Skipper Hazel was very clear re the consequences if anyone was daft enough to bring any of this very unstable substance on board!
SS Gwladmena
This steamship was sunk in 1918, and sits upright in 38 metres. The Gwladmena was also wire-swept, and the sweep picked up the engine and dropped it so that it now lies forward of the boilers rather than aft.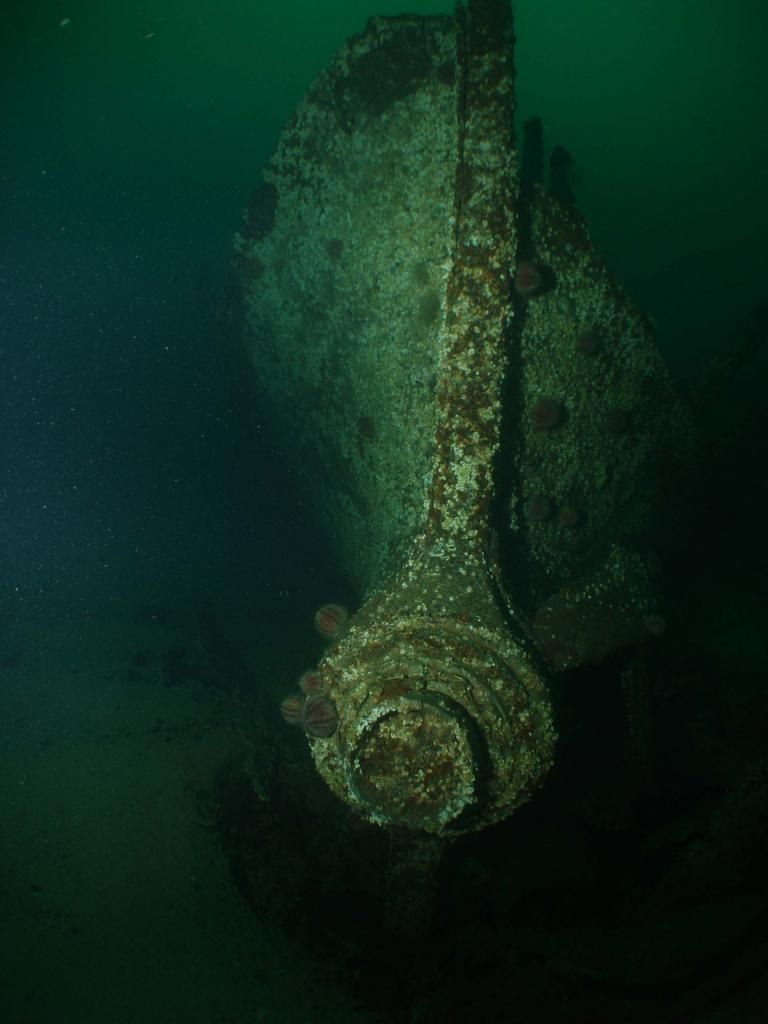 Fraoch Ban
A trawler resting on a white sand sea bed, but the real crowd-pleasers were the flat-fish who raised themselves up and bowed to us when we ran our fingers through the sand. Mick was one of the last down the shotline and was amazed to see a bunch of hardened wreckies all kneeling on the sand with backs to the wreck, looking at the flatfish!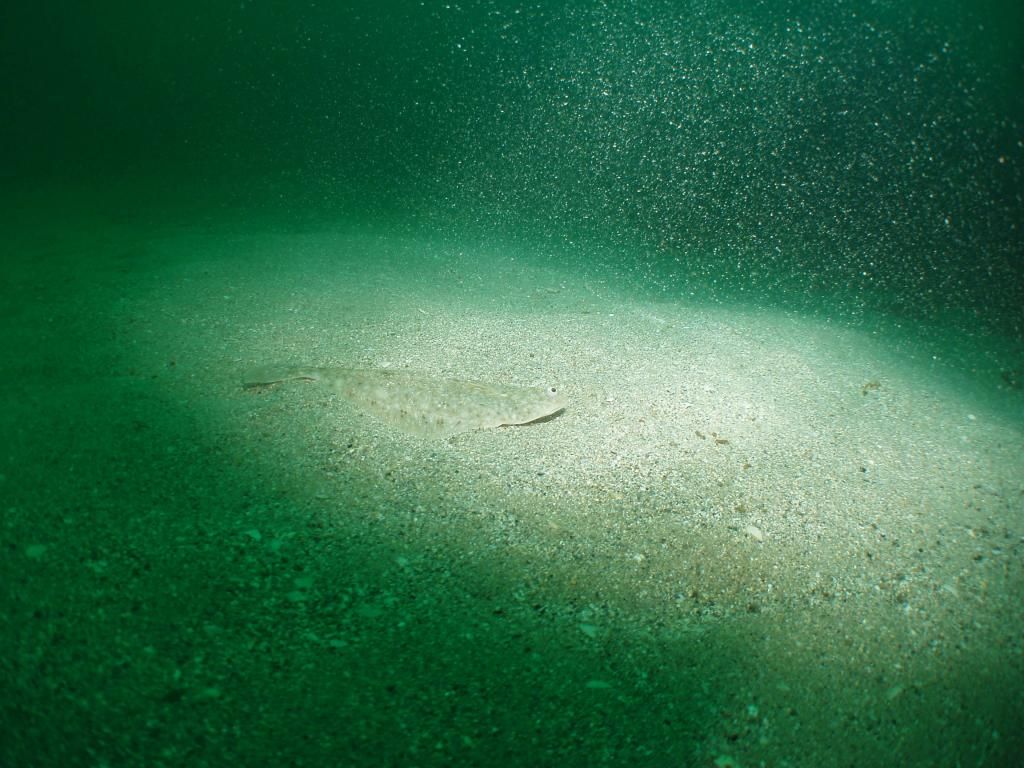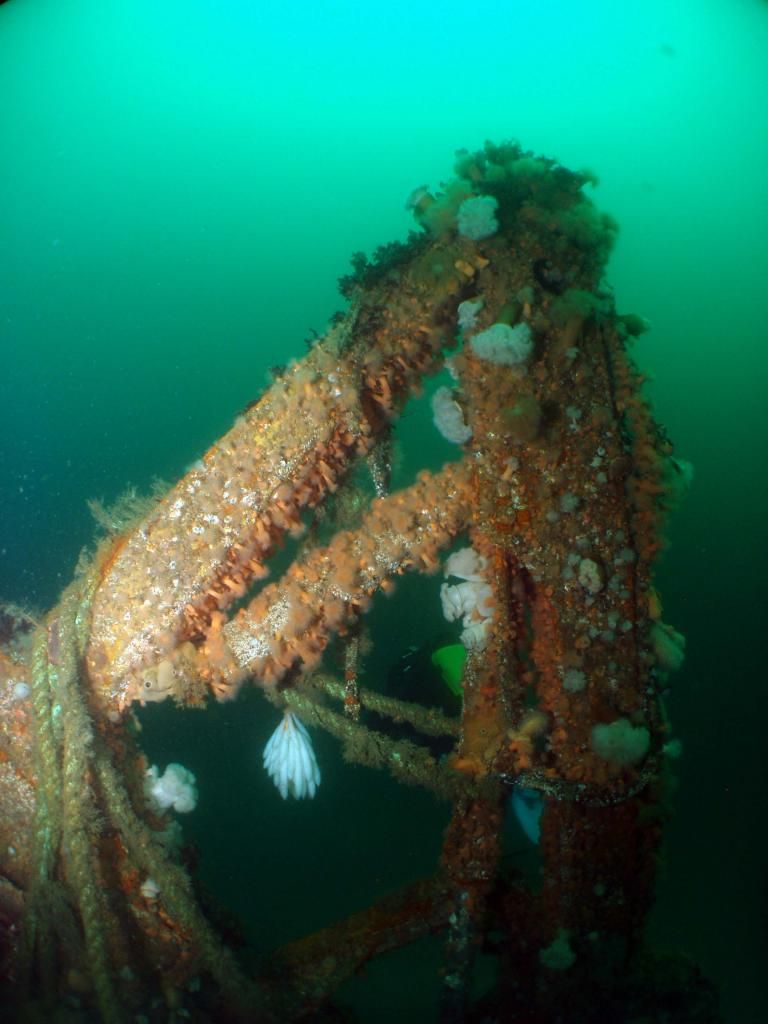 Giant's Legs
A beautiful dive, along a wall, into a cave, and then we swam between the "Giant's legs" (basaltic columns). The walls were covered in life (sea squirts, dahlia anemones and a few Devonshire cup corals) and the sun glinted through the legs. Two seals passed by, and then we were treated to two gannets darting around underwater.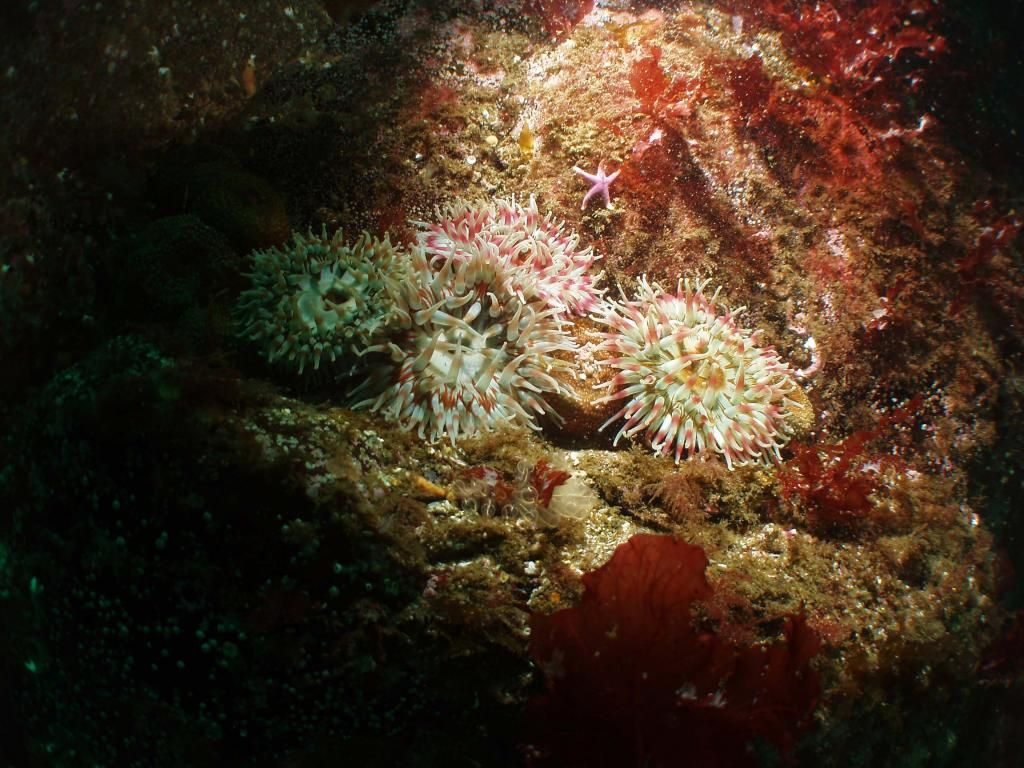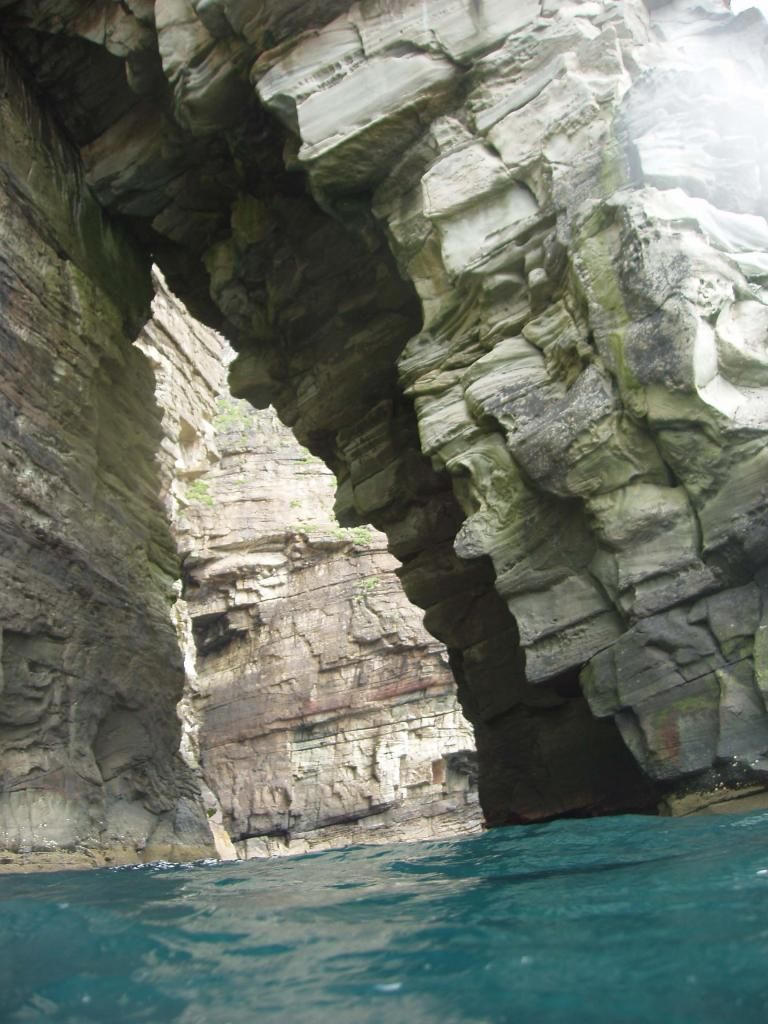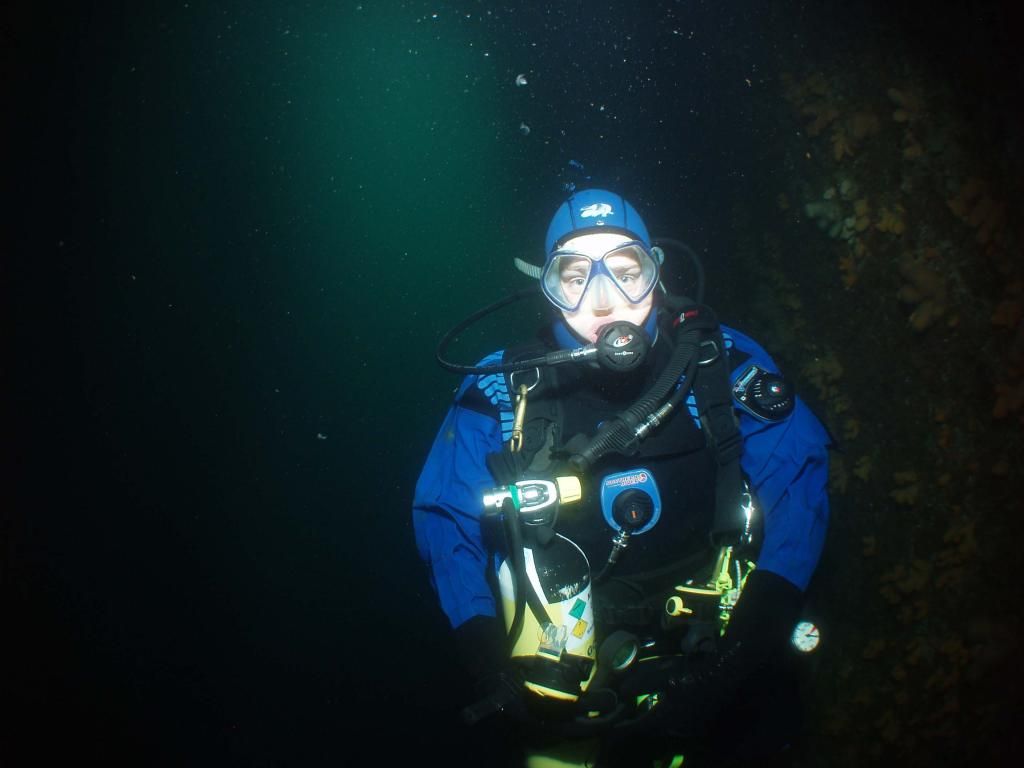 Fugla Hull
Another excellent cavern dive, with a gap that went through to the other side of the stack. Ronnie and I took a wrong turn, and eventually turned back when it got very narrow! The walls had Devonshore cup corals, jewel anemonies, sea squirts, baby dead mans fingers, etc . Sean & Steve saw an octopus, though only the ink remained when we arrived, but the most prolific life was loads of comb jellies and moon jellies.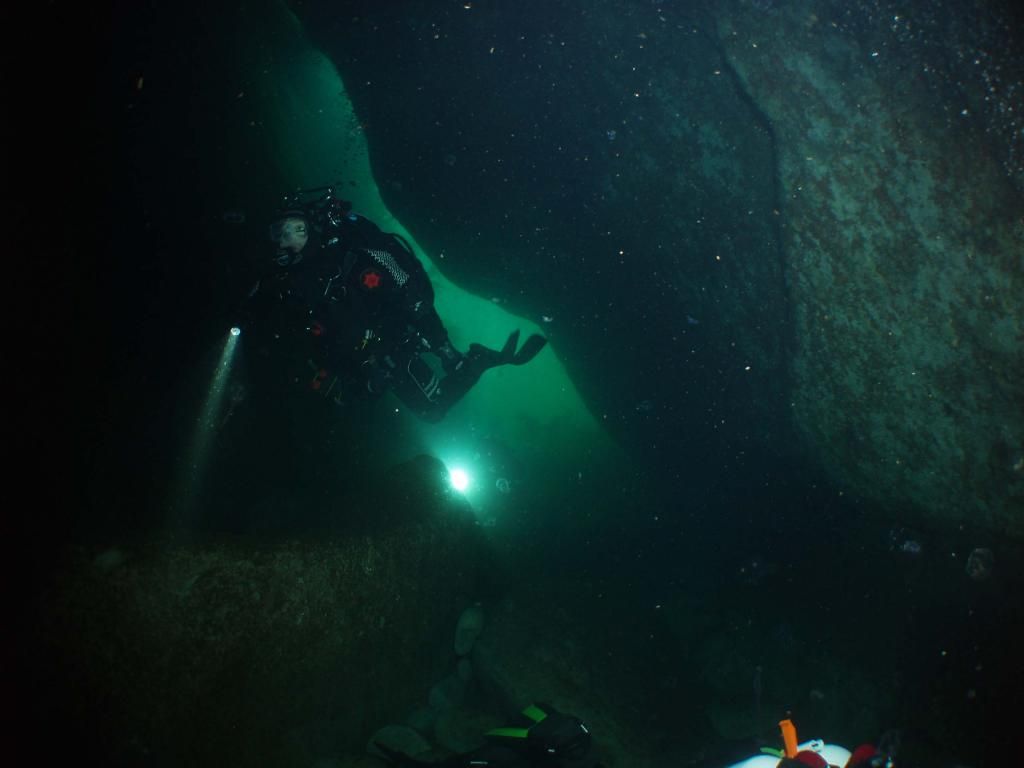 Orkneyman's Cave
Our final dive of the week. This cave goes a long way in to the rock, so a good torch is a must. The cave is home to a couple of seals, and several lobsters, including "Lobzilla", who is the size of a Labrador!
I couldn't get my camera under the rock to photograph Lobzilla, so here's his baby brother: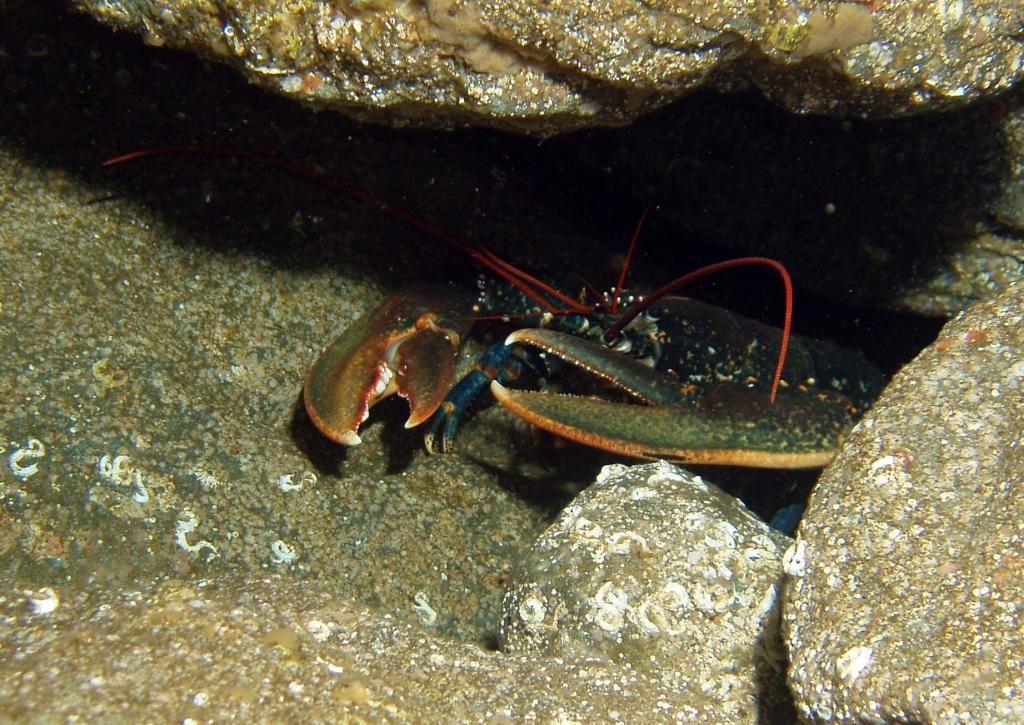 Summary
An excellent week of diving, and lots of laughs. Given that we were so close to the Arctic Circle, I was pleasantly surprised when I realised that my waterproof jacket and fleece hat were unused at the end of the week. If these wrecks were in a more accessible location, there would be several dive boats on them every day, though that would inevitably mean that they wouldn't be so intact. We were very lucky with the weather, and visibility was generally in excess of 10 metres, though not quite as good as Eddystone a few weeks ago. There was less marine life than I expected, and we were told that it's because it's so early in the season, and colder water temperatures mean that the marine life is several weeks behind the equivalent further south.