They say that Friday the 13 is an unlucky day, well not if you are casting off the burdens and pressures of the working week (well most of us) in favour of a weekend in Scotland enjoying our favourite pastime.
The majority of the group arrived at the accomodation in the early afternoon with the exception of 2 intrepid travellers who arrived at around half past midnight.
Upon arrival the obligatory half gallon of Guinness was discharged as Tim and Jane played catch up with Stuart and Andy
After many of Stuart's "true stories" it was time to retire. The room was pleasant with low areas of ceiling which Stuarts head was magically drawn to.
All fell silent as the land of nod beckoned
The following morning was slightly dull and a little overcast but no rain. The eager divers rose from their respective pits and were greeted by bacon sandwiches.
Dive gear prepared the happy band headed out to the boat.
It was at this point I realised how close to the actual water we were.
The group waded out to a very spacious RHIB in a scene which resembles Moses leading the Israelites through the Red Sea
the boat loaded it was time to board.
Boarding a RHIB has never been something I've been especially skilled at and after watching the various methods employed by the group and the acrobatic skills of Steve G I decided there was no way I could compete and asked Simon the skipper to lower the dive ladder to allow me to keep my dignity intact as I boarded. Much to the surprise and disappointment of those already on the boat who were just waiting for me to make a complete hash of it...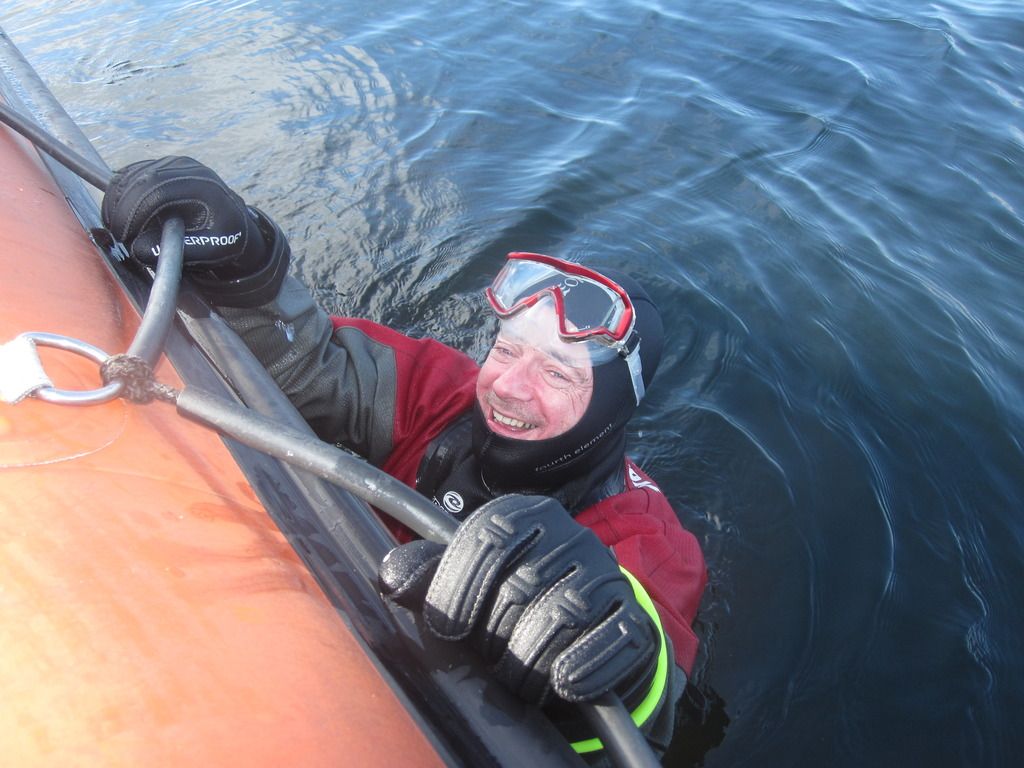 And we were off...
A quick journey across the Loch brought us to the first dive site and the kit was eagerly put on
A tropical 7 degrees of fairly good viz greeted us.
Every one in the water it was jane and my turn
A backward roll and a drop to around 6 meters and a very pleasant dive with the floor littered with brittle stars crabs and to my complete delight scallops "We ll eat tonight I though". After a swim of around 10 minutes we arrived a the reef where we saw the largest lobster I've ever seen
scallops and lobster were now on the menu. However Mr Lobster knew exactly what I was thinking and raised it claws ready to take me on
They say discretion is the better part of valour and on this occasion we both went our separate ways both feeling as though each had won a moral victory but being an honest guy I have to say I chickened out of the fight.
Dive one completed it was back to the ranch for tomato soup and hot drinks.
Stuart was eagerly awaiting and I enquired as to how his head was to which he replied he dreamt he had bumped it on the bedroom ceiling
Dive number 2 saw a slight change of buddy's with Tom joining Jane and I. This was again a very pleasant dive round a rocky Island which resulted in Tom finding his first scallop. The dive lasted around half an hour to a depth of 15 meters. And certainly a highlight seeing a young divers skills develop.
Everyone back on the boat with more scallops (we were going to eat very well) it was full steam ahead for a date with a certain rugby match
After a hearty meal the evenings entertainment started Stuart got his book of true stories out while several of us made our way through the EU wine lake all were happy
Day 2 began with sunshine, not that anyone else knows as I had volunteered to cook breakfast.
With everyone's tummies full of fried food it was a quick zip across the loch to the next dive...
It would be fair to say that at times confusion reigned that morning and this became more apparent when a voice said "Tim have you seen my hood and gloves"
Poor Tom a valuable lesson learned that enabled him to experience that sinking feeling when everyone dives and you can't. We've all been there folks
Another dive completed and Toms hood and gloves retrieved we loaded up the boat for the final time.
This time Stuart decided he couldn't keep out of the water although I'm not sure waist deep watt counts as a dive pal or was it the promise of the pub
En route to the dive site we were entertained by a dolphin and a flounder trying to film the dolphin
And so the last dive, the drift dive. However with the appearance of flipper the dive definately played second fiddle
Many scallops were left until my next visit which will be soon
And so it was off to the pub
I've arrived at pubs in many vehicles but never by RHIB and we certainly turned a few heads. A roast dinner accompanied with a couple of pints and a plate of oysters put the icing on the cake
If anyone is still reading this and has never been to Loch Fyne YOU SHOULD
This was a top trip good diving good weather good company good food
CHEERS EVERYONE