Wow.
Just…….wow.
Oh, wait, I suppose some of the more discerning among you would prefer a little more detail. Very well.
My first ocean dive was at the Farnes the weekend of the 6th/7th June . I had been keeping an eye on the weather forecast for the week leading up to the dive, and as the date drew nearer, my spirits were sinking lower and lower. Predicted wind speeds were gusting up to unacceptable levels, and at every refresh of the screen it seemed they were getting either higher or of a longer duration. I had been asked if I might not even go up if the diving was called off, but as the accommodation was already paid for, for me and Sheila, my wife, I decided that we would be going come what may.
I'd booked the Friday off work, so had time to load the car with kit that was already prepped and packed away the previous weekend, so we had a nice, leisurely drive up past Harrogate to the A1, then up north. I took this route because of where I live, but I gather many members took the M6/A66 route, something that I've driven many a time in my truck, but not on this occasion.
On arrival, we were the first ones at the accommodation, clover cottage, where we picked up the keys. Very impressive, we thought.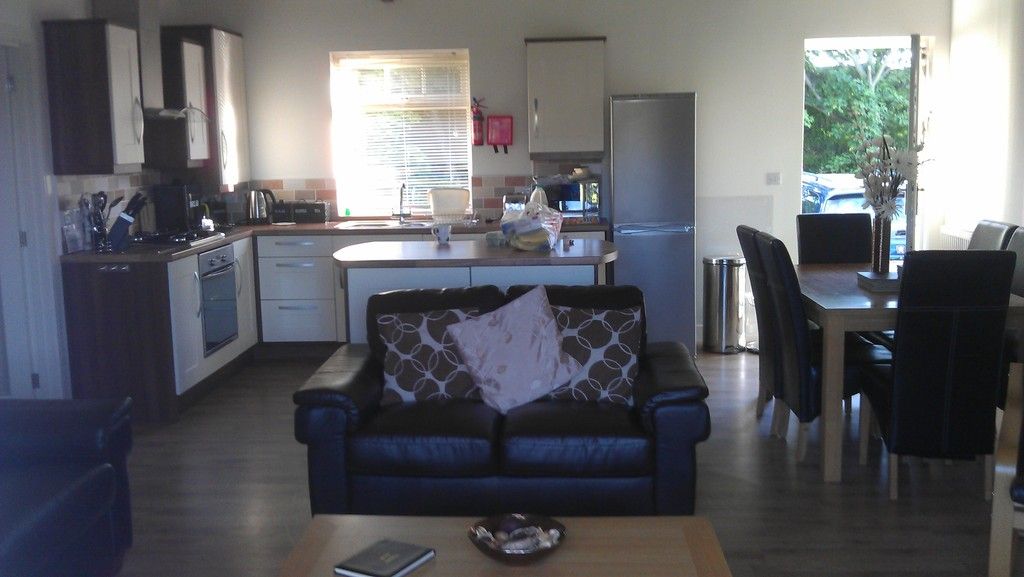 Then off to the pub where we met up with most of the rest of the party apart from the late stragglers. Meal and a few drinks later saw us retiring back to the cottage for the night.
Saturday morning saw me praying to the weather gods while coaxing a mobile internet signal to check the forecast. Then off down to the docks, following Maria to see what was happening. The seas didn't look all that good even to my untrained eyes, but after several days of accepting the inevitable I was cheered by the sight of several boats loading up with divers and heading out. Game on, I thought! This feeling lasted all of about 30 minutes until things were called off for the day. After some discussion and faffing about, we decided to all have a trip to lindisfarne island. Was a good day out, but the wind managed to blow pretty strong from all four compass points at once. Nevertheless I took a stroll down to the beach and was rewarded with the sight of seals in the water poking their heads up at irregular intervals.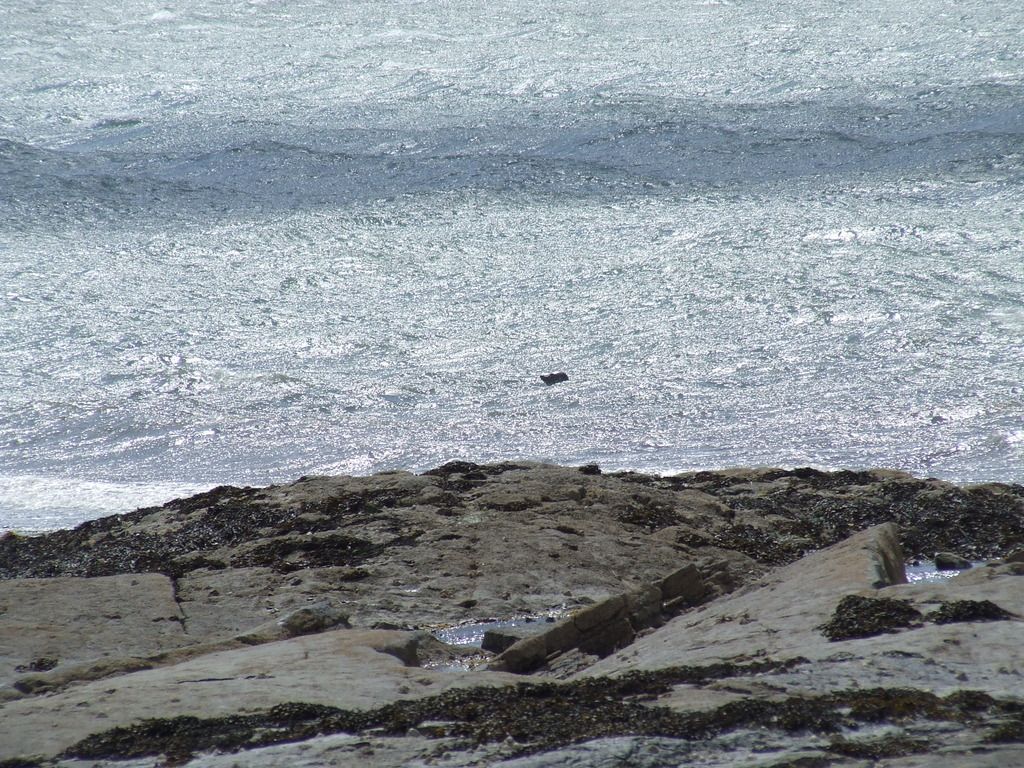 After some time we returned to the cars, and back along the causeway to 'home'. There had been some discussion and speculation about the possibility of a shore dive. Numerous places had been discussed & dismissed. In the end, I think it was decided that the weather was still too rough. But the difficulty in getting cylinders refilled may have played a part in the decision.
However, it's an ill wind that blows nobody any good, and the windy day blew me the opportunity to complete my third sports diver theory lesson ST3. The compass work was especially challenging, but was completed despite some reservations from the Training Officer!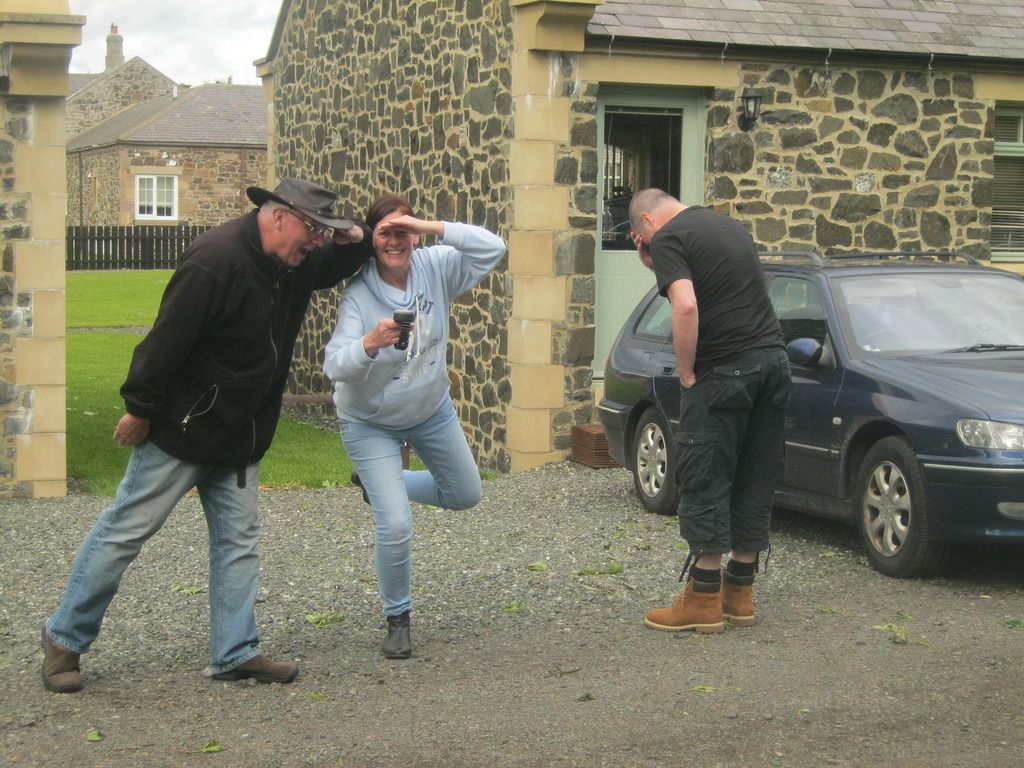 Shortly after that it was off to the pub again. A fellow could quite easily get used to this, I thought! Also, I was most impressed by everyones brave efforts to hide their disappointment at the lack of diving that day.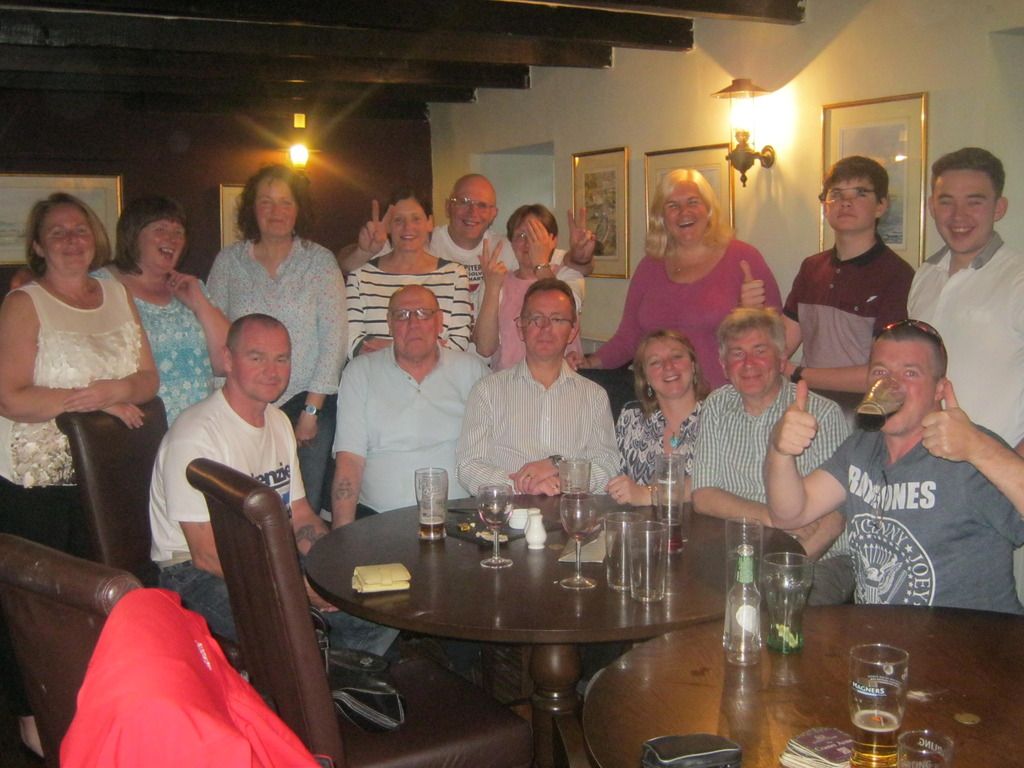 Have to add though that disappointment was tempered by the news of a diver in another party suffering an injury on their boat in the rough waves. Not completely sure what, but had heard it was a broken hip!
The following day, weather forecast was a lot better, so hotfoot down to the harbour to find that although the wind was a little blowy, the forecast was for it to die down later in the day. Much thrills, excitement, happiness and anticipation was felt. Mainly by me, as everyone else seemed to take it in their stride. I got into my suit, and dragged my assembled kit down into the boat, the Glad Tidings VII.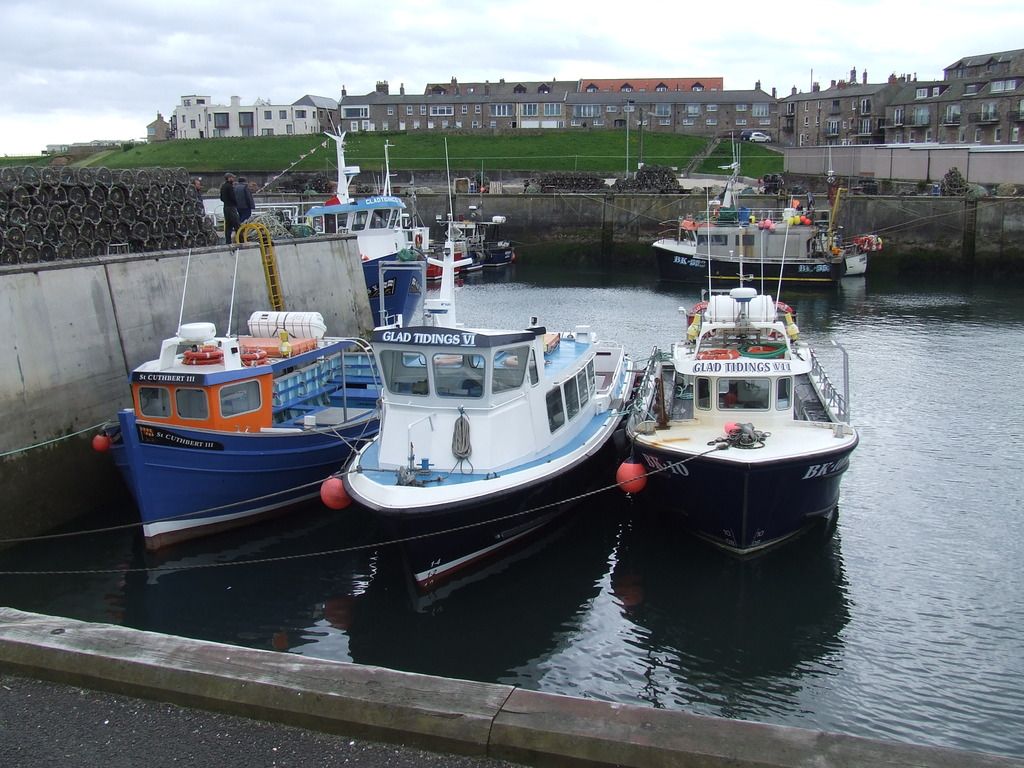 It didn't take long for me to lash my equipment to one of the ropes provided, and it took even less time for someone to tell me to lash it somewhere else, next to my dive buddies kit, a convention I was unaware of. Not helped by the fact that my buddies kit was not yet on the boat. But all was soon sorted, and we were soon under way. My wife Sheila came with us as a non diver. She did have her doubts, especially when warned that the journey out to the dive site was likely to be a little rough, but decided to chance it.
Sure enough, it was quite choppy on the way out. But I still got some instuction on the way. Especially in the procedures for using the lift at the blunt end of the boat.
Not long after this pic was taken, Jane returned to her previous place on the boat, leaving me to study the lift a little longer. In the couple of minutes I did, the chop and swell grew so much that I was left clinging to the rail, eyeing where I was sitting with the rest of my kit about 8 feet away, but not daring to let go for that short trip across the deck! Eventually recklessness managed to overcome common sense and I lurched back to my place, where I received more instruction from my dive buddy for the day, Maria.
Not long after that we arrived at our first dive site near some cliffs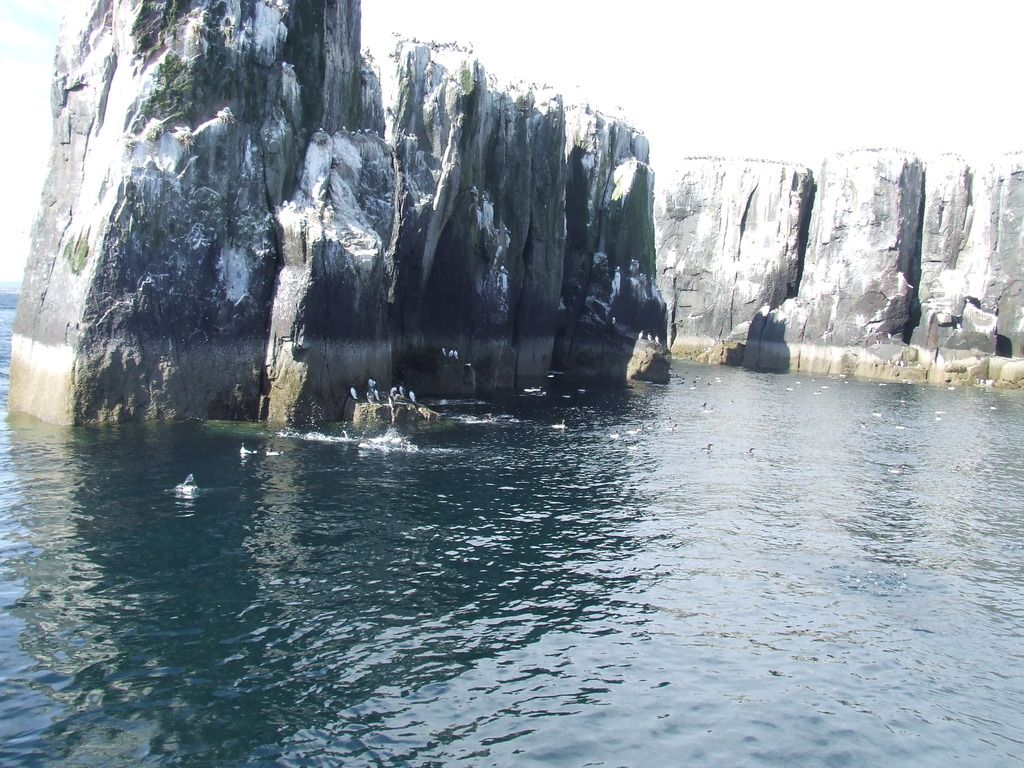 Where, after a briefing from the boat skipper, we finished kitting up and commenced entering the water in pairs.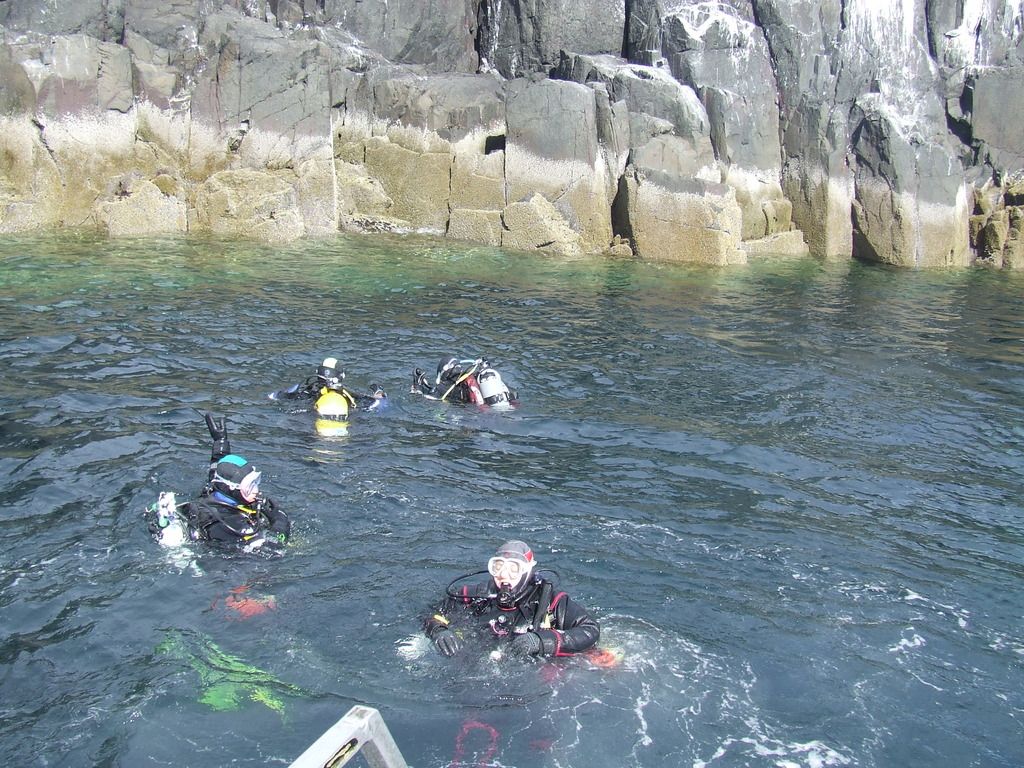 And finally me
I'd asked Maria to pause at the surface while I just took in my surroundings. Entry was fine, with water temp nowhere near as cold as my first time in the delph in February (Brrrr!). Once I came back up to the surface I gave an OK signal, then looked round at the cliff face, the surface of the sea, the back of the boat, and thought…..Wow! Then I dipped my face in the water to see if I could see much, and what the visibility was like, and saw we were in the middle of a cloud of grey, translucent, gherkin sized and shaped jellyfish and though ….more wow! After about a minute of just taking it in, I signalled to Maria I was good to go, and we started down. Because I had been told that salt water would increase my buoyancy I had added 2kg to my weight. Even so, I initially struggled to get under the surface.
But eventually calmed down some more and managed to slip under the surface. The descent was without incident until we reached the bottom, where I was thrilled to see so many sea urchins and starfish. Many of the latter missing one or more limb. We followed the cliff face, looking into various nooks and crannies with our torches, finding assorted lobsters and crabs. I paused for a minute at the maximum depth I reached, 19.3m and looked up with more than a little awe at the sight of the cliff face stretching (clearly) all the way up above us to the surface, festooned with seaweed so the entire cliff looked like a living thing. Moving along we came across some other divers from our party, and then a debris field of some kind. We had been told about some kind of wreck, which I later heard that some had seen it, but we didn't get that far ourselves, as air levels dictated our return to the surface. A DSMB was deployed (not by me) and we followed the line up. However, although I slowed my ascent, I found myself unable to stop at the 6m level, and made a slow yet undignified ascent to the surface. I really, really need to work on that!
Finned to the rear of the boat where I remembered my instruction for using the lift. A brief fumble getting on with my fins, but otherwise smooth enough, and was hoisted to deck level and helped aboard, soon followed by my buddy.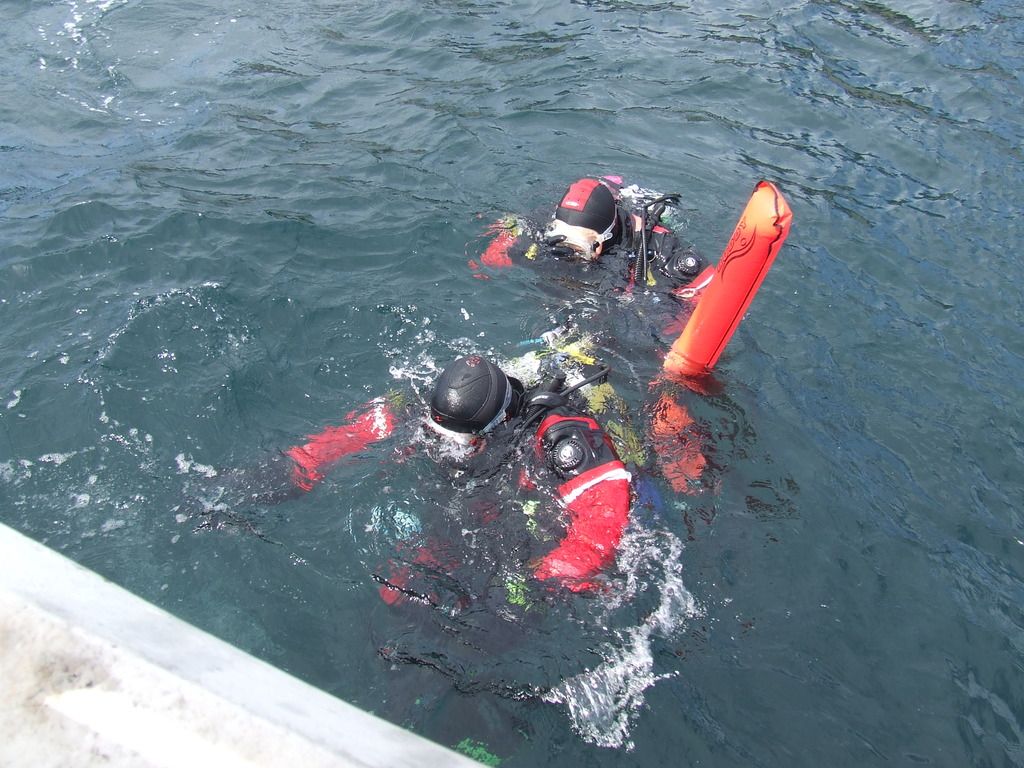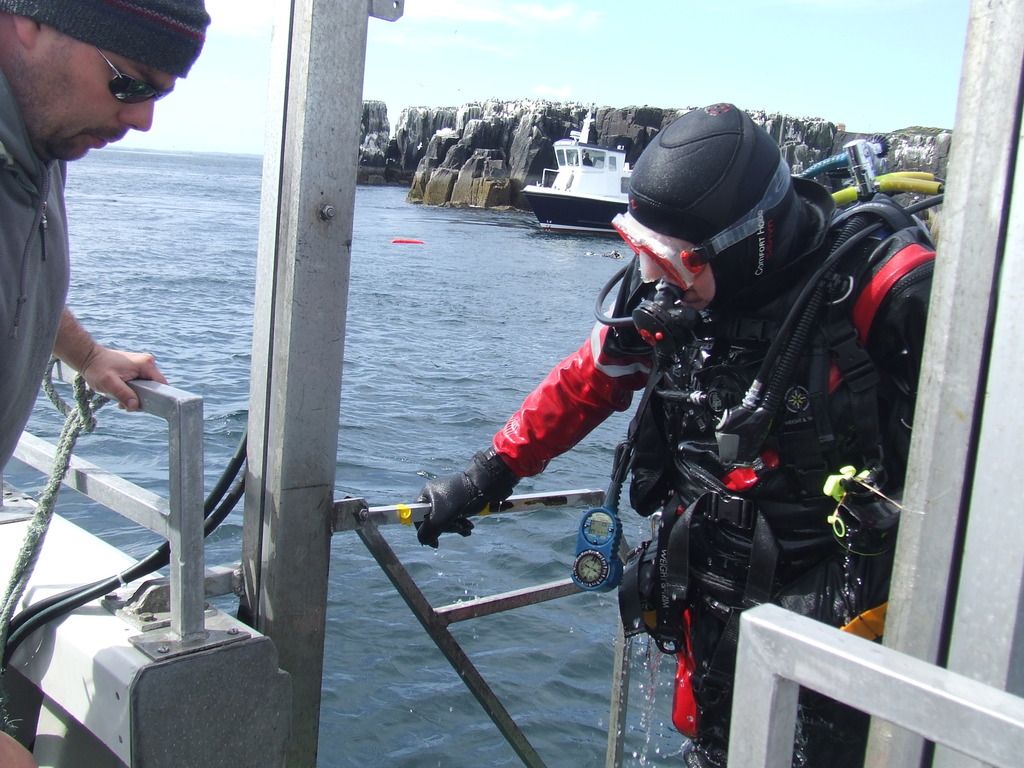 Once everyone had been recovered we set off for the second site and our appointment with the seals! On the way there was plenty of time for discussing the recent dive, checking kit, refreshments, and even contribution from the non diving members of the party!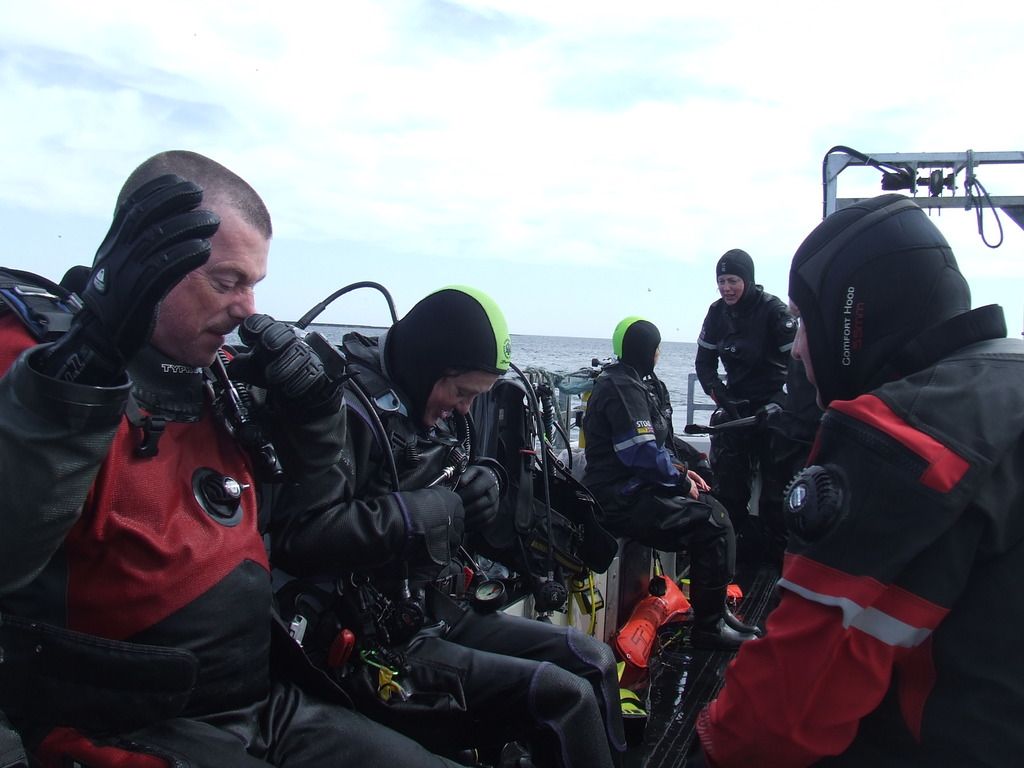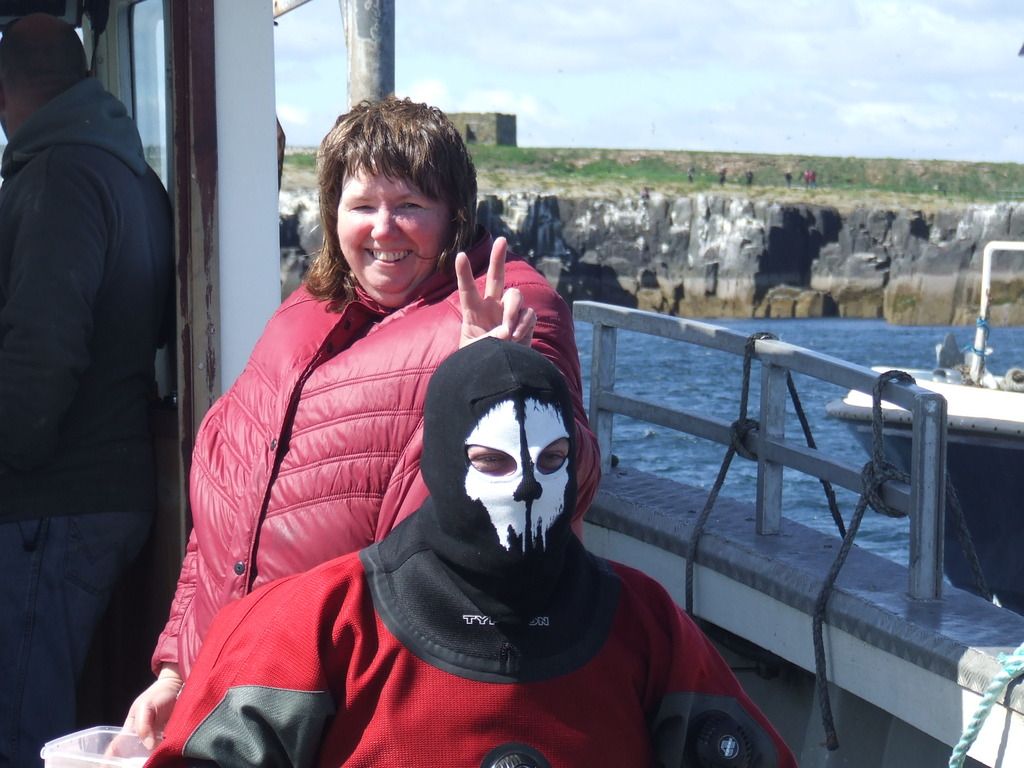 Two hours later we are on the second dive site of the day. An encouraging sight was seals on the rocks.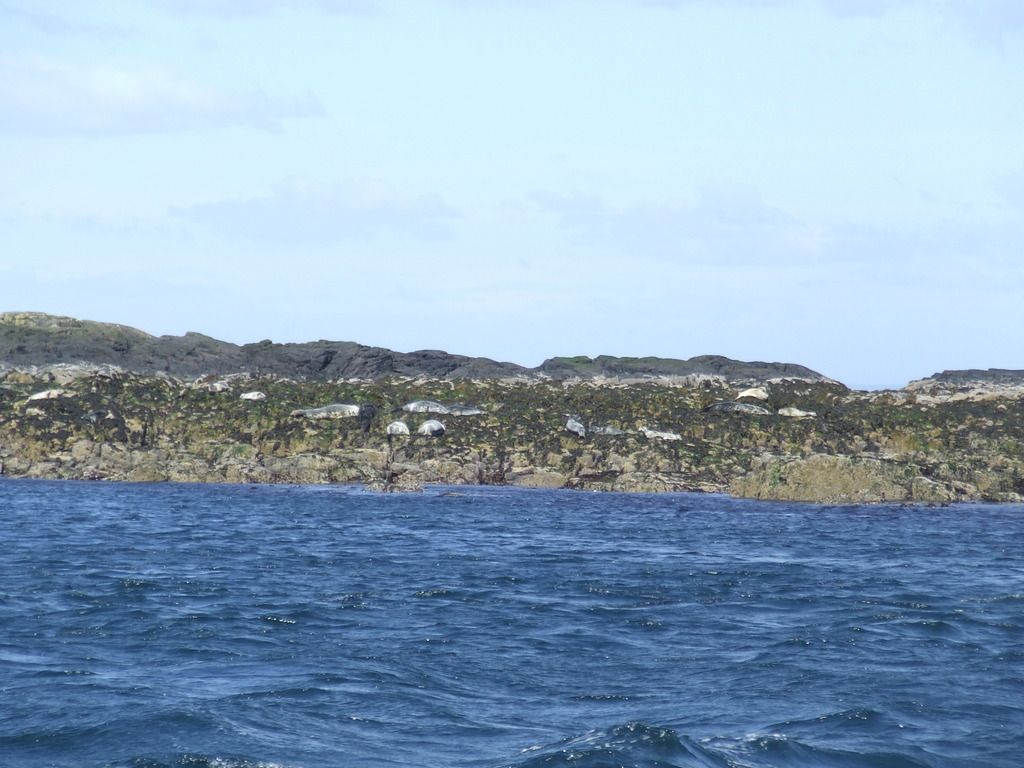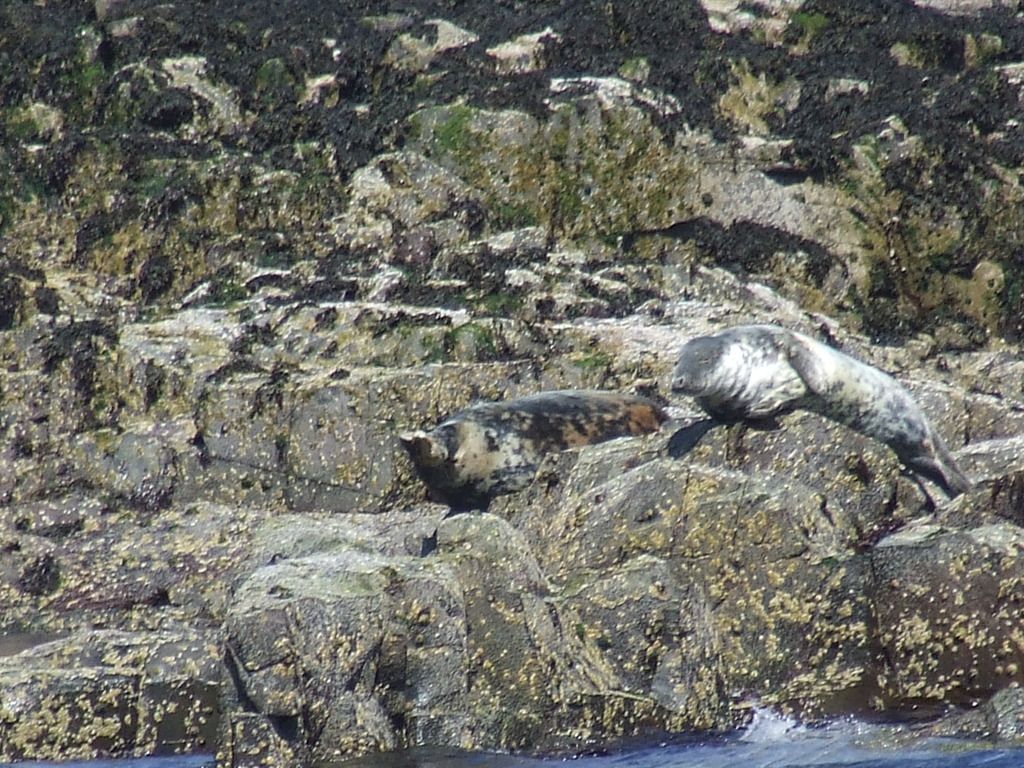 After another briefing we kitted up again. I added another kg to my weight, taking me up to 3kg over my freshwater weight, and in we went. What a different view! There was green stuff (Seaweed? Kelp? Don't know what it was) growing thickly all over the place at depths down to 8m with very little of the bottom visible. Down we went, and it wasn't long before I saw my first seal hurtling through the water. I didn't try to follow, as I would have had more chance of catching a greased pig than one of these amazing creatures. I didn't have an underwater camera, but I wish I had, because as I was following my buddy I happened to glance down into the undergrowth and saw a seal down on the bottom looking up at me! I finned after my buddy but it was too late.
We finned around some more, with me misunderstanding what was for the best, and I found myself grubbing around poking through a lot of the shrubbery. Got totally lost too, so came up for a look round, then back down. Spooked another seal that shot out of the seaweed tight past me! Something then ran down my leg. I think it was sweat! I looked around, but again was unseen by my buddy. We carried on, and saw several more seals in the distance, but no more up close. However, I also had my first experience of water moving back and forth. Really strange to be floating perfectly still in the water, level with the tops of the growths, and looking down to see the bottom moving back and forth!
Soon enough my buddy who was leading the dive called for us to go up, and all good things must come to an end. Surfaced ok, and made our way to the boat, where it was moving about in the swell more than the first time. I had some trouble getting aboard the lift, just waiting for the right timing, but right then I was really glad we hadn't gone out in the worse weather.
Once everyone had been recovered we headed back to port, and on the trip back I had plenty of time to reflect on the days experience.
I'm happy to say that I found the experience 100% positive. It opened up my eyes to other conditions and sights I'm likely to encounter, and I'm taking a lot of good memories away from this trip.
I think I can best sum it up as WOW!
But that's where I came in, isn't it?
(p.s. Thanks to Jan Glenn for some of the above pics.)