Good diving, good weather, beautiful location, excellent craic with great friends. What more could we ask for? Oh yes, dolphins, whales, porpoises and seals
Baltimore Diving Centre
We dived with Baltimore Diving Centre
http://www.baltimorediving.com/
, owned and operated by the very capable and entertaining skipper John Kearney, who has clearly kissed the Blarney Stone at some point.
Some of the highlights:
Fastnet Rock
I've heard and read about this for years, and not just on the shipping forecast. I was hoping that we would be able to dive this, but was trying not to build my hopes up as it is an exposed site and I knew we would need a few days of settled weather to make this possible.
We travelled out on flat calm seas, and saw dolphins, porpoises and minke whales as we listened to some of the skipper's tales. The lighthouse stands on an isolated rock, and it was interesting to see that keepers were there doing some maintenance work on this (usually) unmanned light.
Underwater the gulleys were full of life, including this curious seal who took a liking to our fins.
Do days really come much better than this? Yes they do - we then saw a few more dolphins on the return journey plus a fin whale. Happy days
Mizen Head
Not a dive, but a day of sightseeing at Mizen Head, the most South-Westerly point of Ireland and the place where Marconi transmitted from. It was a beautiful and fascinating place.
SS Nestorian
The Nestorian was carrying rolled iron ingots for WW1 gun barrels. It looked like some giant had dropped a load of iron bars from a great height!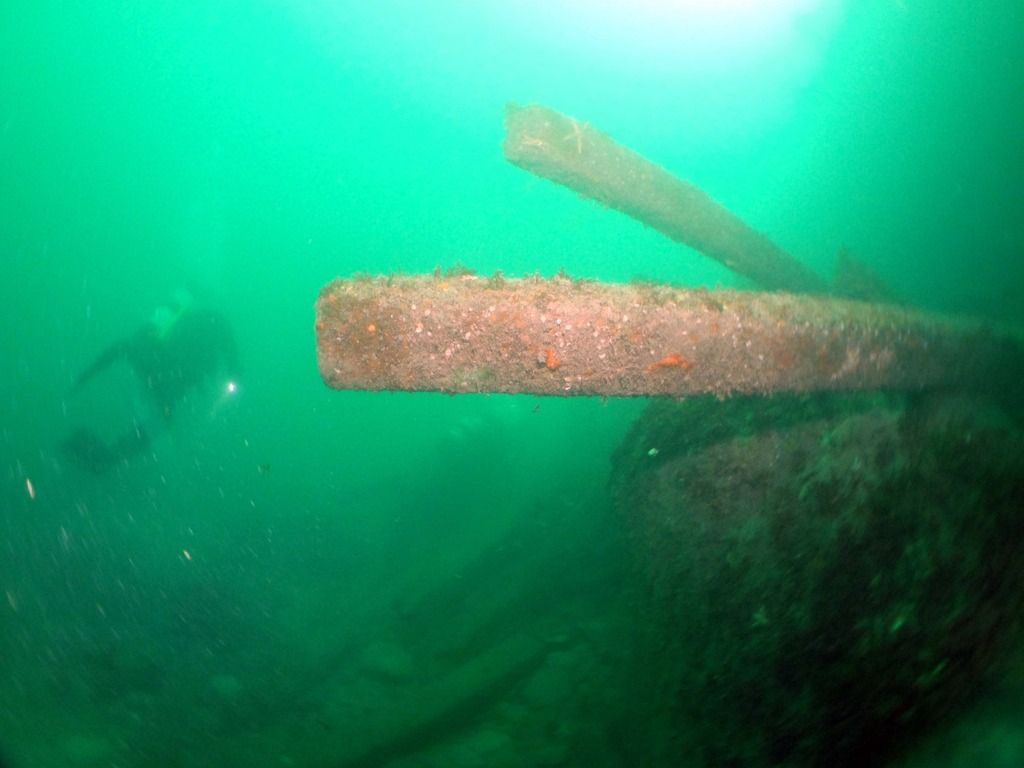 The anchor was also pretty substantial.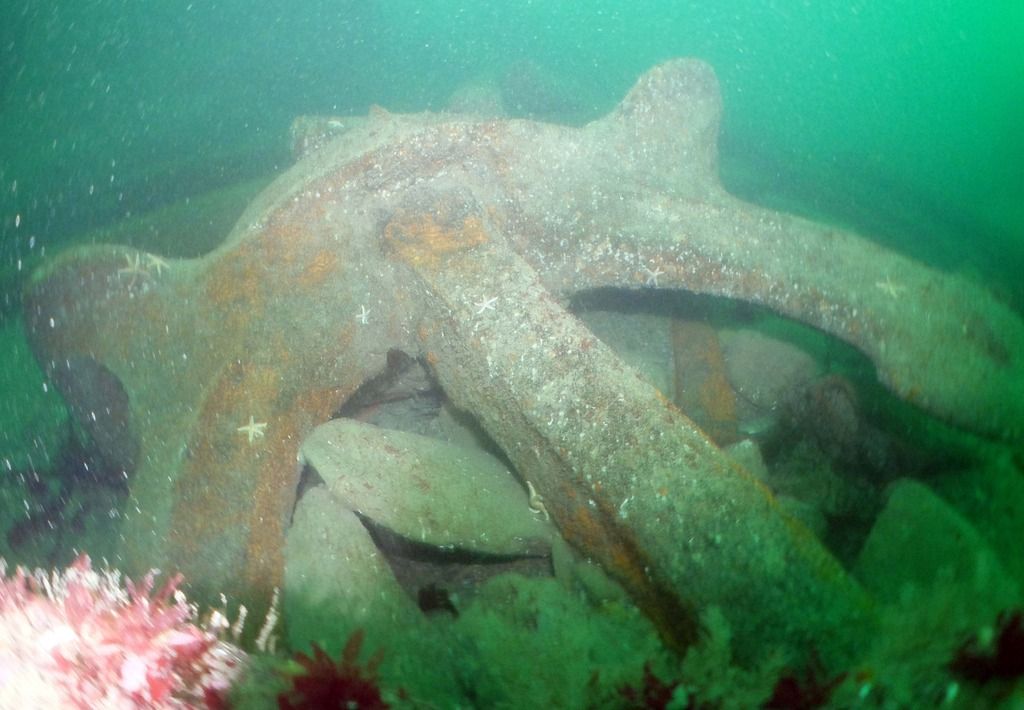 Old habits die hard and Stuart was easily recognised by the cloud of silt as he checked the composition of some metal object!
Kowloon Bridge
Unfortunately the shotline snapped and so I managed to miss the world's largest dive-able wreck (!) but it was worth it just to hear John the skipper describe how she met her fate(you have to imagine an Irish accent as you read this) : "It was a cold November night, and I was standing up on the headland...., some of the local fishermen were helping themselves to stuff on the wreck and they couldn't get off, so were stuck on her for 3 days...."
Baltimore Beacon alley (aka cannonball alley)
Wow, what a dive!
The brief was to go up & down various gulleys, and we were told that one of these ran through the headland. Guess which one Andy & I took?
There was a strong swell / surge as we went through a narrow gulley, so we braced against the walls when the current came towards us, and went with it when the current took us. Wow, what a ride! Andy was in front of me, so I was surprised when I was spat out at the end of the gulley at the other side of the headland to realise that he wasn't there
It seems that the swell took us in opposite directions at some point and we passed above and below each other without noticing as we concentrated on not being bashed on to a rock.
SV Dido - "yee hah!"
Another wreck that was well broken up and scattered in a gulley.
"Head in a North Easterly direction and the tide will push you through the gulley over the wreckage", was the brief. Unfortunately the tide was coming towards us through the gulley, which made for a more challenging dive. We surfaced near the end of the gulley and realised that we would have to fin out a bit further (against the current) for the boat to recover us. When waves broke over our heads and sent us surfing, I was concerned about Jan until I heard her shout "Yee hah" and realised that she was enjoying the ride!
Eating & drinking
We stayed in a comfortable house owned by Baltimore Diving and we relaxed on the patio and were served a range of high quality meals, thanks to our team of talented chefs.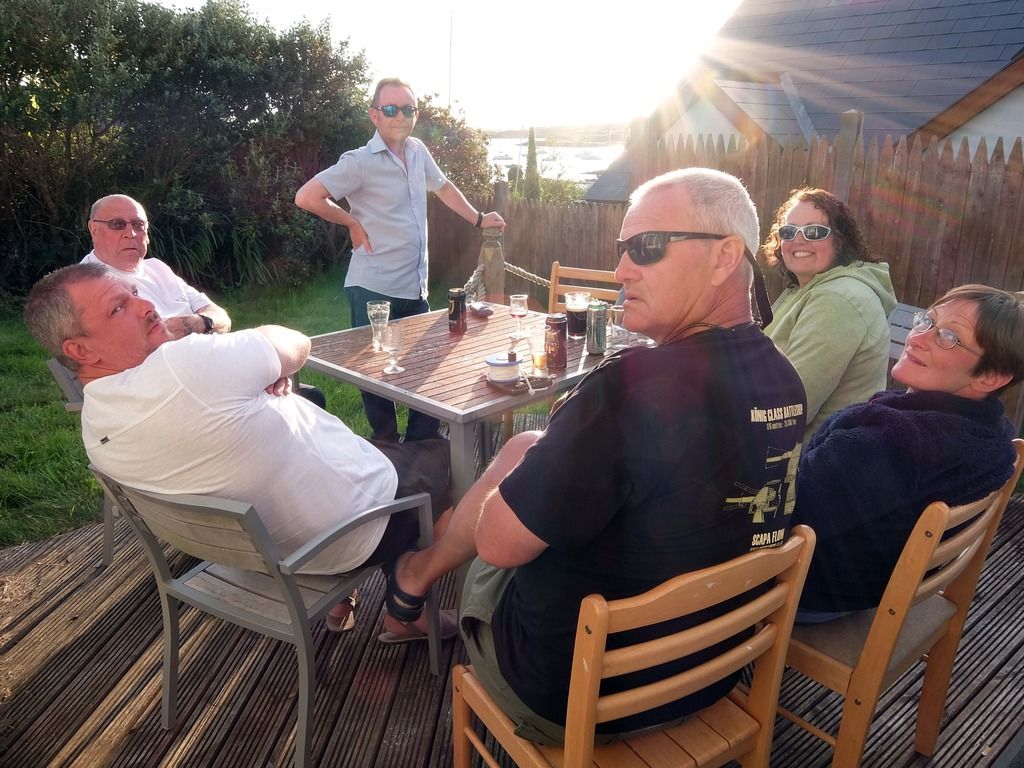 On the final evening we dined out in style overlooking the waterfront.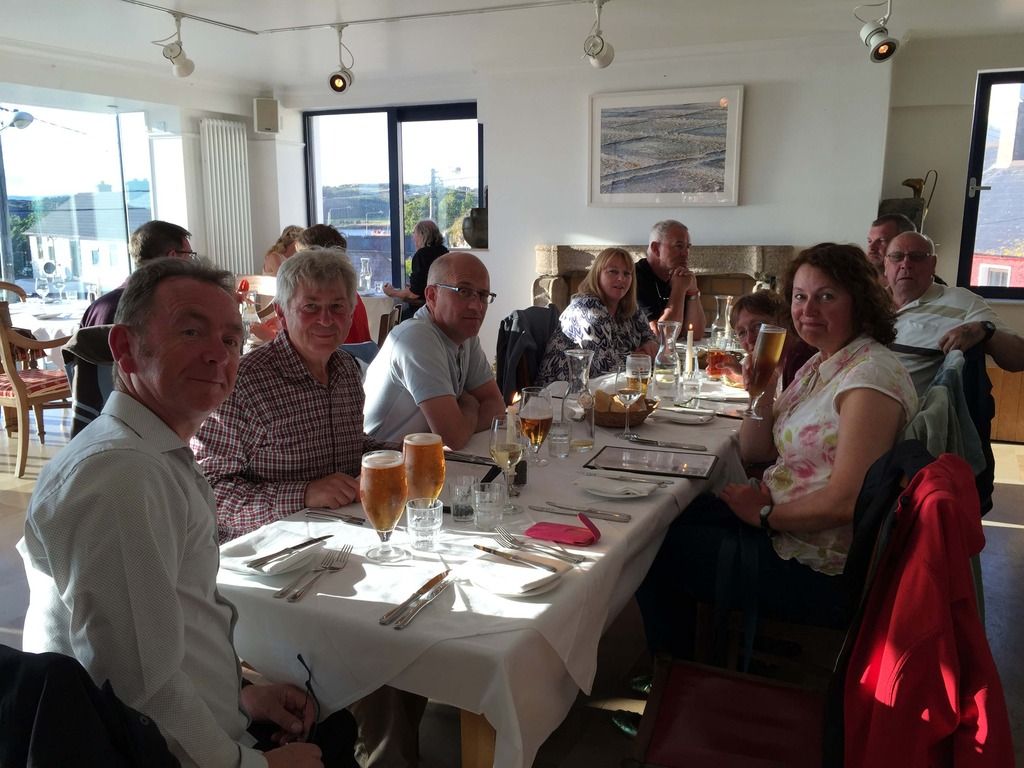 The view wasn't bad
A prefect end to an excellent week.
A big thank you to Ged for organising the trip, and to his finance manager Mick - poster boys for "Last of the summer whiskey"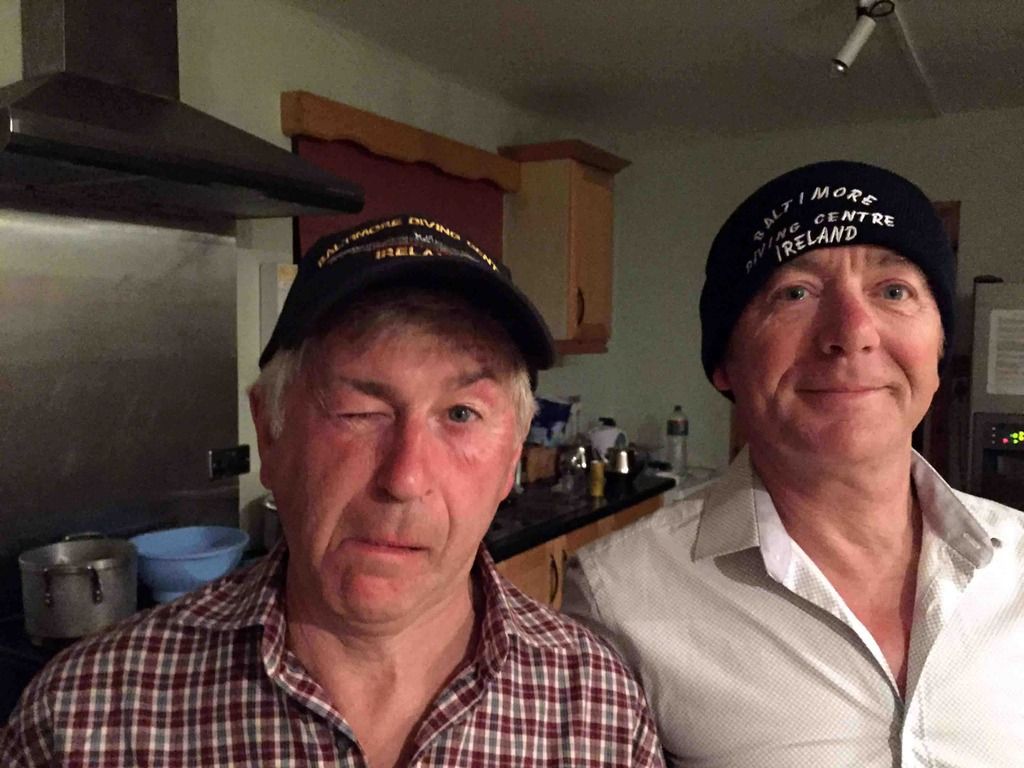 Finally, thanks to the rest of the gang for making it such a brilliant time.
We'll be back!